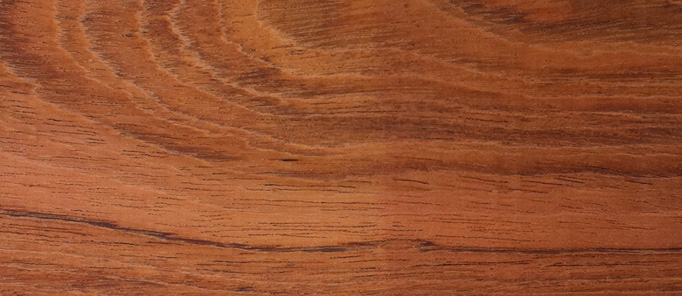 The light grey or cream-coloured sapwood is clearly distinguishable from the reddish heartwood, which sometimes turns orange or brown with darker streaks.

The polished radial surfaces show a pleasant silky appearance. Jatoba, originally from Brazil, is not only known for its high hardness, but also for its extraordinary aspect.
The medium-brown colour and the pleasant partial dark veining of this cherry wood guarantee a very distinctive design of the space.
A few, scattered medium-sized pores harmoniously complement the fine visual appearance.

Jatoba, also known as Brazilian cherry, is a common tree in the Caribbean countries of Central America, in South America particularly in Brazil. It is a hardwood used for furniture, flooring, parquet, and decorative purposes.

Indoor use: floors, parquet, stairs, window frames, doors, walls, furniture.
Outdoor use: garden furniture, outdoor structures, facade cladding, decking.

It is one of the most popular Brazilian woods due to its combination of high durability and decorative appearance.
This wood is mainly used as solid wood for interior flooring.
Characteristics:

Common name Jatoba (Brazilian Cherry)
Scientific name Hymenaea
Texture Medium/Rough
Grain Straight, often interlocked
Density 950 Kg/m3
Shrinkage Medium
Dimensional stability Medium
Durability* Excellent for indoor use
Hardness Medium/High
Brinell hardness 4,5 Kg/mm2
Crushing strength Good
Our timber is GF3-certified, proving the legal origin of the timber and the environmental compatibility of timber logging.

*Resistance to fungal or insect attack